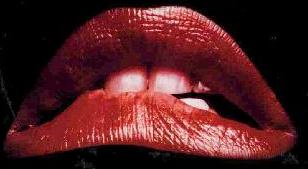 ---
Well, after my dozen or so Rockys and countless questions I've decided that it would just be easier to put everything up on the web where anyone can access it. So this means if you have a question that hasn't been answered here, you can email it to me and I'll post it.
---
I didn't know RHPS was playing in Edmonton. Where and when can I see it?
The Rocky Horror Picture Show plays every six months or so at the Garneau Theater. Tickets are $8.00 at the door, and the show goes on at midnight (doors at about 11:30). Shows are in October/November (near Halloween) and April/May.

What props do I need to bring?
There are many, many different prop lists available on the internet, but it's different for every theatre. This is what we use:
Rice - thrown during wedding scenes (Ralph Hapschatt/Betty Monroe, Frank/Rocky), aim for the virgins!
Newspaper - wear it over your head during "Over at the Frankenstein Place.
Flashlight/Lighter - turn it on when Janet and Brad sing "There's a light..." and turn it off during "In the darkness..." (NOTE: if you're using a lighter, keep it well away from anyone's head - burning hair reeks and hairspray is highly flammable!).
Rubber glove - during the laboratory scene, snap it at the same time Frank does.
Noisemaker - use in in the lab scene whenever the Transylvanians use theirs.
Toilet paper - bring a roll and toss it in the air just after Dr. Scott crashes through the wall of the lab and Brad says "Great Scott!"
Unbuttered toast - toss it in the air during the dinner scene when Frank says "A toast to absent friends".
Playing cards - 5 per person, toss them in the air during "I'm Going Home" when Frank sings "Cards for sorrow, cards for pain".
Prop kits are also available from the theatre (a lot less work!) for $3.00 and come with everything but the flashlight.

What's a shadow cast?
A shadow cast does just what the name says - we shadow the movie. As you see the scenes on the screen, we act them out live, adding our own little jokes to it.

What's AP?
AP stands for Audience Participation - it's basically lines yelled by the audience at the movie. There are AP scripts available if you want some idea of what we'll be saying but some of our lines will be different from the ones posted. The best way to learn is to keep coming out!

I saw this on video with my friends. It's the same thing in the theatre, right?
It's nothing like the video - as we say, "If you haven't seen it in the theatre, you haven't seen the fucking movie! The RHPS experience is unparalleled in the theatre - you get to interact with the movie and the entire theatre. Be prepared to yell, and have fun.

Do I have to dress up?
Absolutely not. Anything goes - just as long as you cover up. There is a costume contest for anyone who dresses up, however, and you're more than welcome to come out in whatever lingerie you wish.

Do you really frisk people at the theater?
In a word, yes. This movie is rated 14A so we have minors in our audience (and occasionally in our cast!). As much fun as it might be, alcohol or other drugs just aren't a good idea in a packed movie theater and we want you to be sober to enjoy the show. Also, certain items such as water guns (not to mention real guns) can't be taken into the theater. Anything you can't bring in will be available for you to pick up at the end of the show.

I'd like to get involved with the cast. How can I do that?
Come out to the show and talk to any one of us after - it helps a lot if you stay to clean up because we all have to at some point (you'll never see so much rice!). We need you to have some semblance of a costume, be willing to learn your part at home, come out to weekly rehearsals, and have little or no inhibitions. If you have a character you'd like to play, it's not a problem - just keep in mind that we have a full cast (except for trannies - we can always use more) and you'll have to share.

How can I get ahold of the cast outside of the show?
The Frankenstein Place is splayed with my email address - send me something and I'll get back to you ASAP. You can also join our msn group - we communicate regularly and you can talk to most of us there.


---
---
---